What a Next-Level TitanScore Can Mean for Your Business
If you're using a business operations software like ServiceTitan, managing that software can sometimes feel like one more thing on that list. With all of the functionality in ServiceTitan—call booking, dispatch, reporting, mobile app, inventory, and more—it can be a lot to keep up with.
So, how can you make sure you're using all the available features in ServiceTitan and getting the most out of your investment? Glad you asked.
Using TitanScore as a Guide
With TitanScore, you can rest easy knowing that you're always clear on what parts of ServiceTitan you're already using and what opportunities you have to take advantage of more key features.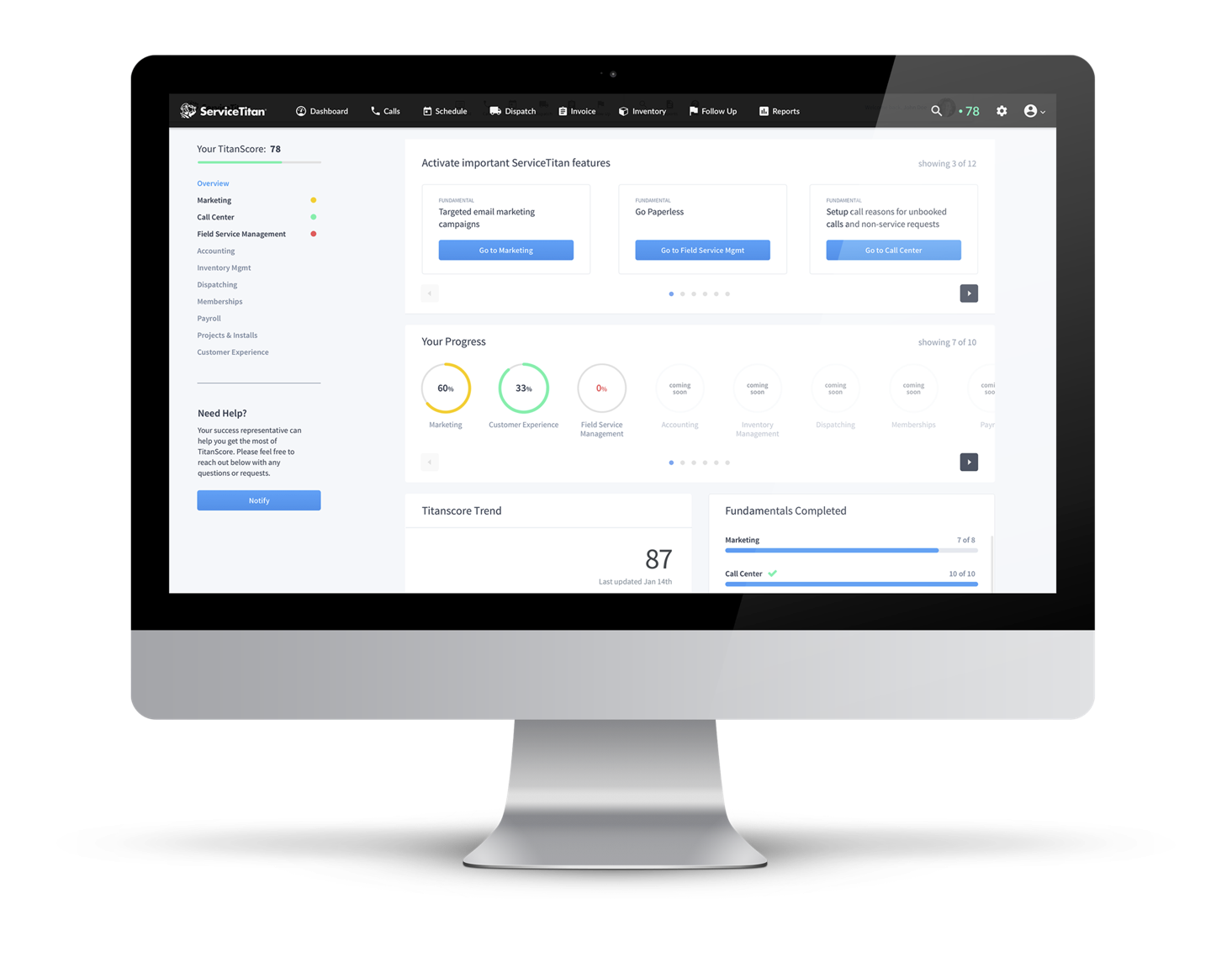 TitanScore provides a holistic view of ServiceTitan, exposing you to all that ServiceTitan has to offer by cataloging all of the recommended key features and new products available and which of those features you're leveraging. TitanScore then provides you with a score from 1 to 100, giving you a birds-eye view of how much of ServiceTitan you're using to run your business.
The features that TitanScore recommends are proven to help contractors achieve extraordinary business success. In fact, we've even seen a 10-point increase in TitanScore correlate to a 5% increase in revenue!
New Ways to Boost Your Score
ServiceTitan continuously evolves, adding new features and enhancing existing features every few weeks. That means TitanScore will always evolve too, to help ServiceTitan contractors continuously identify ways to get more value out of ServiceTitan.
We're excited to share that TitanScore is getting its first major update on Monday, October 21st.
In total, there will be 29 newly tracked features in TitanScore, spanning everything from Call Center functionality to our new ServiceTitan Marketing Pro tool.
If you're already using ServiceTitan, you will notice your TitanScore change after October 21st. ServiceTitan contractors who are already taking advantage of many of the 29 newly tracked features may see their TitanScore go up. Others may see their TitanScore go down.
A lower score doesn't mean that you are using ServiceTitan improperly. It means you can capitalize on more opportunities to use ServiceTitan to dramatically improve efficiency, provide exceptional customer experience, and gain invaluable data and insights.
With TitanScore, you always have a guide to help you feel confident that you are making the most of ServiceTitan for your business.
ServiceTitan is the #1 business software platform for professionals in the home and commercial service industry. Thousands of electrical, HVAC, plumbing, water treatment, and garage door shops across the country have used our cloud-based system to wow customers, optimize efficiency, and increase their revenue by an average of 24% in just nine months.
Ready to learn more about what our award-winning software can do for your business? Contact ServiceTitan to schedule a demo today!
Solid advice delivered to your inbox.
Related post
How to Ask Customers for Reviews and Improve Your Company's Online Rankings
How do potential customers find your HVAC, plumbing, or electrical company when their furnace sputters out in the middle of the night or when their toilet springs a leak right before a big party? Customers aren't checking the phone book or asking a neighbor for recommendations for a local home service provider. They're reading online reviews.
5 Tips to Create an HVAC Pricebook Your Techs Will Understand
Homeowners today don't fully comprehend how their home's heating and cooling system works, and most don't care to learn how an HVAC company sets its pricing, so they rely on your company's HVAC technicians to be the experts and give them an honest estimate. 
Create a Plumbing Pricebook Your Techs Can Understand
Plumbers are consistently in high demand. Nearly every plumbing job is an emergency and needs to be fixed right away, and most plumbing companies stay busy year-round with no downtime or slow season to clear their own drains. Help your trained plumbing technicians manage the demand overflow from customers out in the field by creating a plumbing pricebook guide they can easily understand.